Collette Morgan, president of the county's NC100BW and member of the county's African-American Advisory Board, said there is an urgent need to bring the community together, and bring them information.
"This forum was assembled to pro- vide answers and resources regarding COVID-19, the vaccine and the dissemination," she said.
Dr. Jordan first asked the panel:
In spite of all that we know in terms of data and the large impact on African-Amercians, why is it that African-Amercans have so much mistrust, particularly in the medical community, and for the vaccine?
Dr. Phillips said the distrust is tied to the systemic racism that has plagued the country.
"It has created a resistance – and unfortunately, a skepticism – in what is being offered to them," Dr. Phillips said. He noted that the disparities and PTSD that Black communities experience in society need to be acknowledged as discussions on the COVID-19 vaccine continue.
Are there side effects to the vaccine?
One of the most common side effects, Dr. El Sehamy said, is fatigue. But it's the body's natural response to the vaccine; your body is creating antibodies.
"It means that it's working," he said. Mild side effects are more visible in the second dose, he said – but that's not a reason not to get the vaccine.
Dr. Whyte agreed she's seen side effects like fever, chills and fatigue are more common after the second dose. She recommended people who get the vaccine exercise the arm where they received the shot. Tylenol can help, too, Dr. Whyte said.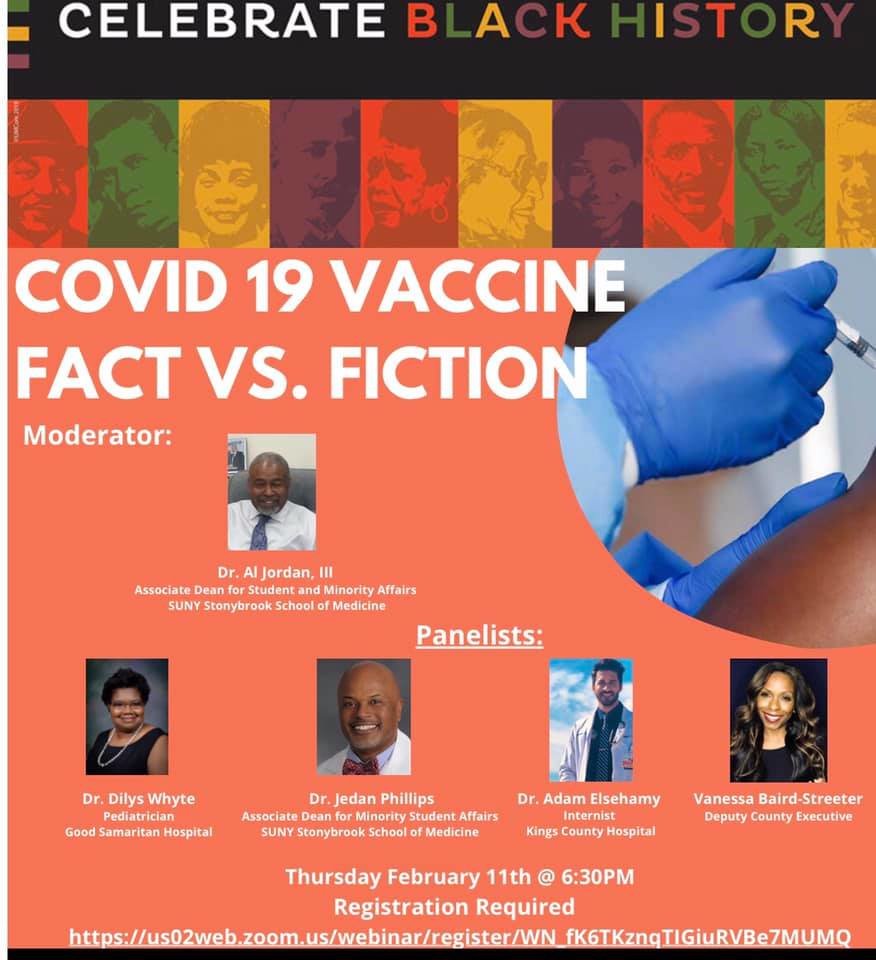 Does the vaccine impact fertility?
Not enough studies have been conducted to provide a "yes" or "no" response, Dr. Whyte said. While data is still being collected on pregnant women, Dr. Whyte noted the American College of Obstetricians and Gynecologists recommends that COVID-19 vaccines not be withheld from pregnant individuals who meet criteria for vaccination.
I already had COVID-19 – am I immune? And do I still need to get the vaccine?

In short, yes – you still need to get the vaccine, Dr. Phillips said. An individual who experiences a mild COVID-19 case could mean that they have three months of virus immunity. An individual with a more intense case, Dr. Phillips said, could show immunity for six months. Community members should always speak to health care professionals if they need additional advice regarding their coronavirus case.
The vaccine was produced quickly. Can it be trusted?
Dr. El Sehamy said pharmaceutical companies were able to conduct trials rapidly because there have been so many positive cases in the public. The coronavirus vaccines have been developed for several years in the past, he said.
Research on the long-term side effects of the vaccine is ongoing, Dr. Phillips added, but the benefits outweigh the risk tremendously.
Can children with COVID-19 infect adults? What's the latest?
Children are getting – and in some cases, dying of – the virus, Dr. Whyte said. They may not get the symptoms visible in adults, but they can get fevers and headaches. Teens sometimes lose a sense of taste and smell.
Children over the age of 2 should be wearing masks and keeping up with proper hygiene, Dr. Whyte said.
Currently, the Pfizer-BioNTech vaccine has been approved for those over the age of 16, and the Moderna vaccine for those over 18, Dr. Whyte said. Studies are ongoing about when children can be vaccinated.
Dr. Whyte later urged residents, especially those with underlying medical conditions, to get the vaccine.
What's the best advice you can give to someone who wants to get the vaccine but is experiencing difficulty?
Baird-Streeter said that while the number of individuals eligible for the vaccine in Suffolk widened when Phase 1B opened, the distribution of vaccines from New York State to the county remained slow. Based on state guidelines for prioritization, the county is focused on vaccinating essential workers in Phase 1B.
"As the weeks continue to roll out, we will see more vaccines rolling into our municipalities, and we can set up micropods in our communities," the deputy county executive said.
"Suffolk County is committed to ensuring that people get access to the vaccine," Baird-Streeter added later, particularly seniors who are not as attuned to new technology. As the vaccine becomes more readily available, testing will be brought to individuals who may not be able to transport themselves to a testing site.
For people of color, the pandemic has been a "double-edged sword," Dr. Phillips concluded. "Unfortunately, it has reared an ugly weight on communities of color, exposing health care disparities, and that's something we need to be mindful of," he said.
The skepticism toward the vaccine from communities of color has historic ties that need to be acknowledged, Dr. Phillips said. He added: "If we are not vaccinated, we put those that we love at risk."
A similar webinar is expected to be held March 11. Additional questions and concerns can be submitted to the Suffolk County Office of Minority Affairs.